10 Best Coworking Spaces in Austin with Perks & Pricing (2023)
If you are looking for a flexible office space, then Austin coworking spaces are a dream come true. This Texas city is contributing to the growing global popularity of shared workspaces. You will be amazed to see the world-class infrastructure in the coworking industry here. Even Fortune 500 companies prefer operating from their premises.
Although popular for many different reasons, Austin is now making news with its coworking scene. Texas has no shortage of shared spaces for individuals, entrepreneurs, and freelancers. At every corner of the city, you will find a friendly, quiet workstation delivering you a quiet and productive environment. 
To save you valuable time, we have done all the homework and put together a list of the best coworking spaces in Austin. Now, just scroll through the options and pick your ideal one.
Coworking Spaces in Austin

We know how challenging it can be to find an ideal match among so many options. But worry not, as we have already done that for you.
1. Heritage Office Suites
Heritage Office Suites has created a niche in offering flexible offices in Austin, Texas. Their Round Rock location is in the downtown business district of Williamson County. It is specifically designed to support professionals and part-timers with an alternative to traditional workspaces, with attractive perks. Members have access to a range of amenities, including meeting rooms, a cafe with free beverages, free parking, and an on-site support team. The space is open 24/7. Besides, you can be part of several social and professional events conducted every month. And the parking is absolutely FREE!
Location: 1000 Heritage Center Cir, Round Rock, TX 78664
Contact: (512) 842-4263
Membership Plans and Pricing: An open coworking workspace starts at $199 per month. Fully furnished office spaces are available at $599 per month (including some on-demand services). Don't need a full-time office? Avail part-time office facilities at only $69 per month. On-demand meeting rooms are also available at $30/hour.


2. WeWork (Coworking Space Austin)
WeWork boasts a unique working space with a diverse population of newly started startups and well-established names in the tech industry. With no stress regarding capital or lease agreements, companies are welcomed with open arms at the premises. It houses over one-third of Fortune 500 companies as its members. But that doesn't imply there is no space for other professionals or companies. WeWork is also one of the premium providers of coworking space in Austin. It has de-densified lounges, single occupancy work nooks, and meeting rooms redesigned for productive presentations. Moreover, it has several branches all over the country and in Austin. Did we tell you that you can host events here? Check out the spaces for more information on that.
Location: WeWork has 7 coworking spaces in Austin:
Address 1: 600 Congress Ave., Austin, TX 78701,5123018589
Address 2: 1400 Lavaca St Suite 700, Austin, TX 78701, 5122563201
Address 3: 316 W 12th St 6th Floor, Austin, TX 78701, 5122564037
Address 4: 3300 N Interstate Hwy 35, Austin, TX 78705, 5122538370
Address 5: 801 Barton Springs Rd, Austin, TX 78704, 5123577666
Address 6: 11801 Domain Blvd 3rd floor, Austin, TX 78758, 5122538063
Address 7: 10900 Stonelake Boulevard Building 2, Suite 100, Austin, TX 78759,

512-256-3667
Contact: 
Address 1: (512) 301-8589
Address 2: (512) 256-3201
Address 3: (512) 256-4037
Address 4: (512) 253-8370
Address 5: (512) 357-7666
Address 6: (512) 253-8063
Address 7: (

512) 256-3667
Membership Plans and Pricing: At WeWork Austin, there are dedicated spaces provided on a monthly or long-term basis. You can go after a dedicated desk, a private lockable office, a full-floor office, and office suites with several attractive amenities. Pricing is available only on request.

3. Fibercove Coworking Austin
"Finally, a space that caters to everyone's needs" claims Fibercove. Yes, it is a space that has all you may ask for. Premium equipment, 24/7 access, podcast studio, kitchen and bar, private call booths, conference rooms, mail services, booking credits, and more. A unique features is that you can bring a friend along. Located in South Austin, Fibercove coworking space hosts events twice a week for the working community. And, if you are someone who loves natural light, then this pace may be ideal for you. You can also bring your pets along. 
Location: 1700 South Lamar Boulevard Suite 338, Austin, TX 78704
Contact: (512) 596-2683
Membership Plans and Pricing: Grab a FREE pass for a day and enjoy all the comforts and amenities of the membership. You can book a small Elwood small fiber room and large fiber room at $25/hour and $50/hour, respectively. Further, Tesla's large fiber room comes for $50/hour, and the Kampany board room is available for $75/hour. But make sure to book a tour on time. There are no virtual rooms, but you can use a virtual address. Prices are revealed only upon request.

4. Createscape Coworking
With a vast area of 7,000 square feet, Createscape Coworking offers a diverse range of flexible yet modern workspace solutions. From day coworking spaces to meeting rooms and small private offices, you'll find the ideal setup catering to your needs. This coworking space's enjoyable and professional atmosphere will help you thrive in your business pursuits, while being surrounded by a community of professionals such as freelancers, remote workers, local entrepreneurs, and startups. Createscape, being a hub of top-notch amenities, offers 24/7 access, fast Wi-Fi, free coffee/tea, mail service, printers, free parking, call rooms, fitness centers, and more. Apart from it, the space is dog-friendly, allowing you to bring your furry companion along instead of leaving them home alone.
Location: 701 Tillery St #12, Austin, TX 78702
Contact: (512) 356-9814
Membership Plans and Pricing: Get a day pass at this coworking space for $25. Createscape Coworking offers three coworking membership options: Part-time, General, and Designated Desk, priced at $130, $240, and $400, respectively. You can avail of their private office membership, equipped with all necessary facilities, at a monthly rate of $1000.
5. Work and Woof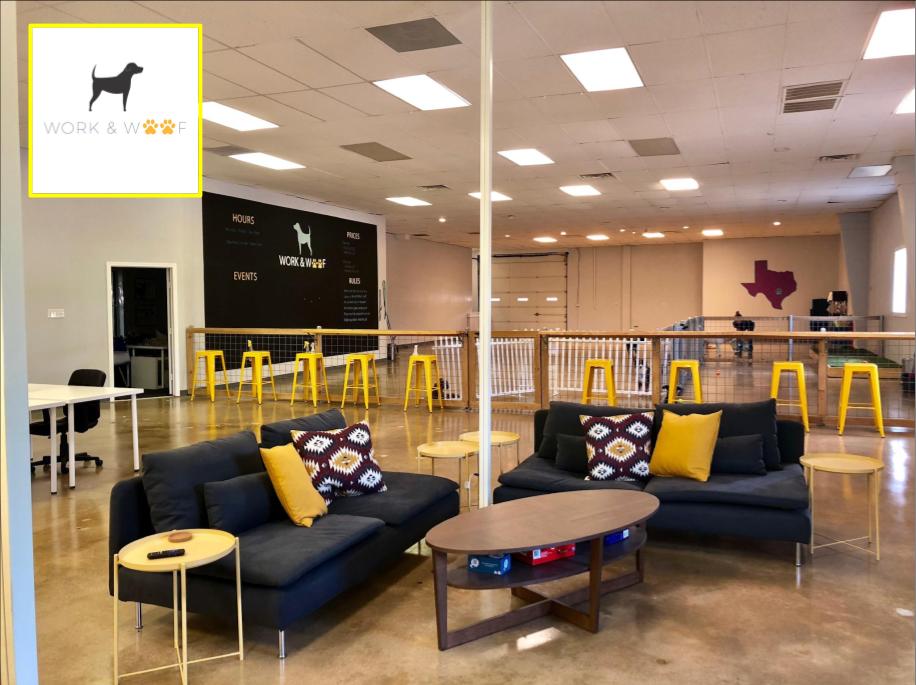 If you are a pet-lover, Work and Woof Austin should be on your bucket list before any other coworking space. Austin has a place that provides pet owners with the comfort of their home and a functional retreat of an office with an additional perk of pet sitting. Of course, there are play parks for your pet babies. But, primarily, this is a coworking space with 18 open decks, three-price offices, and 1,500 sq. ft. of work and play space and retail. Your membership includes FREE dog care. You don't have to pay except for the evaluation fee on your first day at Work and Woof. Isn't that amazing? 
Location: 4930 South Congress Avenue Building A, Austin, TX 78745
Contact: (512) 460-1488
Membership Plans and Pricing: A day pass to this coworking space in Austin costs $30. The monthly hot desk is $400. Besides, there is a five-pass pack for $125 and a ten-pass pack for $200. Moreover, for pet sitting, prices vary for full-daycare and half-daycare. In addition, indoor and outdoor parks have different costs attached.

6. Industrious Austin
Housed in a brand new building, Industrious is situated with its astounding coworking space in the heart of Austin. The building has a variety of businesses and individuals operating, from Fortune 500 companies to innovative startups, making it attractive for everyone. Natural light illuminates this place with its floor-to-ceiling windows. If you like working at such prestigious places, then you can choose here between office suites, private offices, canvas, and dedicated desks with best-in-class amenities included. Membership plans are offered to allow you to work in your own private offices while you pay only for the days you choose to work. Above all, the bonus of working at Industrious coworking space in Austin gives you access to local treats served at an in-house cafe, a private mother's space, common areas, private offices, and much more. Moreover, you can get your dedicated spaces customized as per your work style with Canvas.  
Location(s): 
Address 1: 201 West 5th Street 11th Floor, Austin, TX

78701

Address 2: 98 San Jacinto Blvd 4th floor, Austin, TX 78701
Address 3: 823 Congress Ave. STE 300, Austin, TX 78701
Contact: 
Address 1:

(

512) 330-4156

Address 2: (512) 664-2004
Address 3: (737) 238-0990
Membership Plans and Pricing: Sign up, choose your ideal space and start working. Prices are available upon request. Both Access memberships and Virtual Memberships are available at more than 100 Industrious locations all over the country.

7. Capital Factory
Situated right in the heart of Austin city makes Capital Factory one of the most accessible coworking spaces in Austin. You may have heard of it but not more than we will tell you. Spread over an area of 81,000 sq ft of shared workspaces, it's a place where you can meet the best entrepreneurs from Texas under the Capital Factory roof. The founders feel proud of introducing them to their first investors, customers, employees, and mentors. Capital Factory Austin has helped many startups, during varying degrees of their journey, grow and succeed. And all this is coupled with world-class amenities. These include an on-site gym, a VR lab, a cold brew and local beer on tap, and a stocked kitchen. Meeting rooms are come fully equipped. Not to forget the valuable advice one can get from mentors and peers on recruiting, fundraising, intellectual property, sales, marketing, and other topics from the top CEOs from Texas.
Location: 701 Brazos St, Austin, TX 78701
Contact: (512) 548-9675
Membership Plans and Pricing: Prices are revealed only upon request. You pay only for what you use. That's a given!
8. Vessel Coworking
Are you seeking a serene and stress-free work environment to drive your business goals? If yes, Vessel Coworking is the ideal choice for you. Join this impeccable coworking space where you can voice your ideas, engage in meaningful discussions, and enjoy some snacks in between meetings, while being part of a supportive community of like-minded individuals. Moreover, impress your valued clients with the spacious and aesthetically pleasing ambiance this coworking space provides. Benefits at Vessel Coworking Austin include private phone booths, superfast internet, well-appointed conference rooms, 24/7 access, snacks options, and many more. 
Location: 500 E St Johns Ave Suite 2.620, Austin, TX 78752,
Contact: (512) 381-7120
Membership Plans and Pricing: Take part-time access for two days a week at $195/month. A full-time flex seating membership is available for $275/month, while dedicated desks are priced at $375/month. To use the space for a day, purchase their day pass at $25.
9. Firmspace Austin
With more than 133 well-furnished, spacious, and visually stunning private offices, Firmspace Austin has marked a niche in the market by providing exceptional workspace solutions. While working here, you can delight in the magnificent views of the serene lake, vibrant skyline, and flourishing hills, all located nearby. If you seek privacy, this coworking space offers highly secure workspaces that can only be accessed using a keycard. Besides, you will love working in a creatively designed workspace, boosting your creativity and productivity. This remarkable workspace offers diverse top-notch amenities, including fast internet, on-site IT staff, a dedicated lounge area, bike storage, reserved parking, and many more. And in case you need to relax in between projects, you can take a break and enroll in their well-appointed fitness center to revitalize your mind and soul.  
Location: 500 W 2nd St Suite 1900, Austin, TX 78701
Contact: (512) 827-0777
Membership Plans and Pricing: A day office at Firmspace Coworking Austin can cost you $99. You can avail of their private offices with all-inclusive benefits starting at $1,199/month. 
10. Common Desk
A creative coworking space in Austin, Common Desk fosters beautifully crafted shared spaces, making it a true hub for innovation and collaboration. What accentuates this place's vibe is its visually captivating ambiance with a perfect blend of professionalism and modern aesthetics. A feather in the cap of this coworking space is its recognition by TravelMag in 2020, where it was featured as one of the top coworking spaces in the North Austin area. Besides, at this extraordinary workspace, you will be provided with distinct amenities like fast Wi-Fi, conference rooms, engaging community events, coffee, etc., to help you thrive on your business goals. Moreover, including wellness desks in the space showcases their persistent commitment to prioritizing your well-being and health above everything else.
Location: 2301 W Anderson Ln., Austin, TX 78757, United States
Contact: (214) 216-6913
Membership Plans and Pricing: A Common Pass at Common Desk Austin is available at $150/month. You can avail of their shared and dedicated desk at a monthly price of $299 and $600, respectively, while a private office can be booked at a starting price of $1800/month.
Wrapping Up

Texas is definitely a great place to be due to its good food, beautiful parks, bike and hike trails, great music, and tech culture. Coworking has added to this list of perks, by supporting a culture that is not only accepted but embraced wholeheartedly all over the world. 
Austin offers a good mix of coworking spaces that focus not only on shared and private spaces but also on social and professional events to help individuals grow professionally. These events are strategically designed to help you connect and collaborate with other like-minded people.   
If this information has piqued your interest even slightly, come and be a part of these Austin coworking spaces. We bet you won't regret it.