10 Best Coworking Spaces in Austin with Perks & Pricing (2022)
If you are looking for office space then Austin Coworking spaces are a dream come true. This Texas city is contributing to the growing global popularity of shared workspaces. You will be amazed to see the world-class infrastructure in the coworking industry here at Austin. Some are so good; even Fortune 500 companies prefer operating from their premises.
Even though the place is more popular for its nightlife, outdoor graffiti art gallery, the place is now making news with its coworking companies. Texas has no shortage of shared spaces for individuals, entrepreneurs, and freelancers. At every corner of the city, you will find a friendly, quiet workstation delivering you the comfort of an office's home and work culture. 
Yes, Texas has several such spaces and finding one that suits your requirements would be highly overwhelming. To save you the trouble, we have done all the homework. Now, just scroll through the extensively researched coworking spaces and pick your selection.
Coworking Space Austin

We know how difficult it is to scroll through coworking space Austin. Need not do that as we have already done that for you.

1
Heritage Office Suites
Currently serving at two locations for coworking space Austin, Heritage Office Suites proffers flexible offices in Austin, Texas. Their Round Rock location is in the downtown business district of Williamson County. It is specifically designed to help professionals and part-timers have an alternative to traditional workspaces with attractive perks. Members have access to a range of amenities, including meeting rooms, a cafe with free beverages, free parking, and an onsite support team. The space is open 24/7. Besides, you can be part of several social and professional events conducted every month. And the parking is absolutely FREE!
Location: Heritage Office Suites has two coworking spaces in Austin
1000 Heritage Center Circle Round Rock
601 Quail Valley Drive Georgetown
Website: https://heritageofficesuites.com/
Membership Plans and Pricing: Open Coworking workspace starts at $199 per month. Fully furnished office space can be taken at $599 per month (including some on-demand services). Don't need a full-time office? Avail part-time office facilities at only $69 per month. On-demand meeting rooms are also available at $30/hour.

2
WeWork (Coworking Space Austin)
WeWork boasts of a unique working space with a diverse population of newly started startups and well-established names in the tech industry. With no stress on capital or lease agreements, companies are welcomed with open arms at the premises. It houses over one-third of Fortune 500 companies as its members. But that doesn't imply there is no space for other professionals or companies. WeWork is also one of the premium providers of coworking space Austin. It has de-densified lounges, single occupancy work nooks, meeting rooms redesigned for safe working during these tough times. Moreover, it has several branches all over the country and Austin. Did we tell you that you can host events here? Check out space for more.
Location: WeWork has 7 coworking spaces in Austin
SXSW Center 1400 Lavaca Street
Westview 316 West 12th Street
The Domain 11801 Domain Blvd 3rd Fl
Quarry Oaks II, 10900 Stonelake Boulevard
University Park 3300 N Interstate 35 Suite 700
801 Barton Springs Rd 
600 Congress Ave
Website: https://www.wework.com/
Membership Plans and Pricing: there are dedicated spaces provided on a monthly or long-term basis. You can go after a dedicated desk, a private lockable office, a full-floor office, and office suites with several attractive amenities. Pricing is available only on request.

3
Fibercove Coworking Austin
"Finally, a space that caters to everyone's needs" claims Fiberove. Yes, it is a space that has all you may ask for. Premium equipment, 24/7 access, podcast studio, kitchen and bar, private call booths, conference rooms, mail services, booking credits, and whatnot. The best among the features is that you can bring a friend along. Located in South Austin, Fibercove hosts events twice a week for the working community.  And if you are someone who loves natural light, then this pace may be ideal for you. You can also bring your pets along. By the way, don't forget to avail booking credits, not everyone around is that generous. Wink! 
Location: South Austin, S. Lamar Blvd
Website: https://www.fibercove.com/
Membership Plans and Pricing: Grab a FREE pass for a day and enjoy all the comforts and amenities of membership. You can book a small Elwood small fiber room and large fiber room at $25/hour and $50/hour, respectively. Further, Tesla's large fiber room comes for $50/hour, and the Kampany board room is available for $75/hour. But book a tour on time. There are no virtual rooms, but you can use a virtual address. Prices are revealed only upon request.

4
MELD Coworking
Built-in a 100-year-old house, the MELD coworking space in Austin is one of the most relaxing offices in Austin. The members can enjoy working without hassles with phone booths, large monitors, and a variety of ergonomic options to choose from. MELD has also collaborated with many national and international coworking spaces. You can visit these places for FREE up to three times a month. Besides, you are allowed to bring friends and professional colleagues with you, but only occasionally. And there is a pop-up shop too. Members and local artists are allowed to sell their products, with all the proceeds going to the seller.
Location: 502 W. 30th Street
Website: https://www.fibercove.com/
Membership Plans and Pricing. Get a day pass at $25. Avail punch card for $200 for 3 months. Flexible membership is priced at $180 for eight days/month. A regular remote desk costs $320/month. And a permanent membership is charged at $400—a month. Further, you can meet your clients in the meeting rooms for $25/hour, use evening meeting space for $65/hour a weekend, even space can be booked for $65/hour. Further, there is a referral discount. Refer someone and win a 50% discount!

5
Work and Woof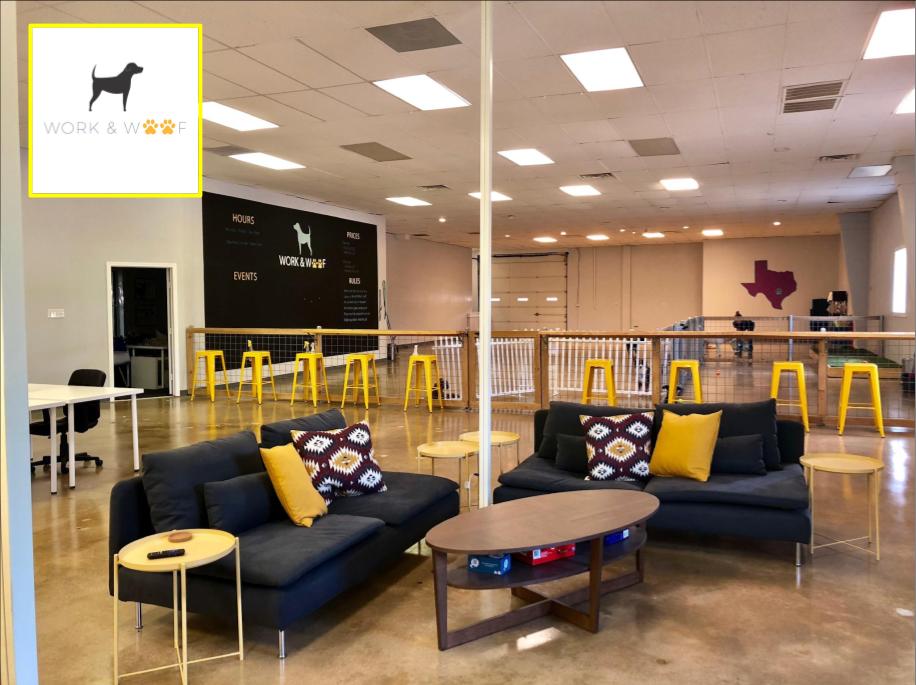 If you are a pet-lover, Work and Woof should be on your bucket list before any other coworking space. Austin is blessed to have a place that allows owners to have the comforts of their home and a functional retreat of an office with an additional perk of pet sitting. Of course, there are play parks for your pet babies. But, primarily, it is a coworking space with 18 open decks, three-price offices, and 1500 sq. ft. of work and play space, bathing, and retail. Your membership includes FREE dog care. Don't pay except for the evaluation fee on your first day at Work and Woof. Isn't that amazing? Even more impressive is that you can bring your adult drinks. Shh.
Location: 4930 S Congress, Bldg A
Website: https://www.workandwoofatx.com/
Membership Plans and Pricing: A day pass to this coworking space Austin costs $30. The monthly hot desk is $400. Besides, there is a five-pass pack for $125 and a ten-pass pack for $200. Moreover, for pet sitting, prices vary for full daycare and half daycare. In addition, indoor and outdoor parks have different costs attached.

6
Industrious 5th and Colorado
Housed in a brand new building, Industrious is situated with its astounding coworking space in the heart of Austin. The building has a variety of businesses and individuals operating from Fortune 500 companies to startups. There is something that attracts everyone. Maybe the natural light illuminates this place with its floor-to-ceiling windows. If you like working at such prestigious places, then you have office suites, private offices, canvas, and dedicated desks with best-in-class infrastructure. Membership plans are offered to allow you to work in your own private offices while you pay only for the days you choose to work. Above all, the bonus of working at Industrious means you get access to local treats served at an in-house cafe, Private mother's space, common areas, private offices, and much more. Moreover, you can get your dedicated spaces customized as per your work style with Canvas.  
Location: 201 W 5th St 11th Floor
Website: https://www.industriousoffice.com/
Membership: Sign up, choose your sweet space and start working. Prices are revealed later. Both Access memberships and Virtual Memberships are available at more than 100 Industrious locations all over the country.

7
Capital Factory
Situated right in the heart of Austin city makes Capital Factory one of the most accessible coworking spaces in Austin. You may have heard of it but not more than we will tell you. Spread over an area of 81000 sq ft of shared workspaces. You can meet the best entrepreneurs from Texas under the Capital Factory roof. The founders feel proud of introducing them to their first investors, customers, employees, and mentors. The place has helped many startups, at varying degrees of their journey, find afoot. And all this is coupled with world-class amenities one can only think of. These include an onsite gym, a VR lab, a cold brew and local beer on tap, and a stocked kitchen. Meeting rooms are equipped with Not to forget the valuable advice one can get from mentors and peers on recruiting, fundraising, intellectual property, sales, marketing, and other topics from the top CEOs from Texas. Is there any other place imparting so much? We haven't heard of any. 
Location: 201 W 5th St 11th Floor
Website: https://www.capitalfactory.com/
Membership Plans and Pricing: Prices are revealed only on request. You pay only for what you use. That's a given!
8
VUKA Coworking Austin
VUKA is a trustworthy name in event management and the coworking industry. Several rely on VUKA for the best in business services and amenities. It is a unique nonprofit organization and works with social impact groups and nonprofit groups. It offers subsidized meetings, events, and coworking space to Autin-based startups. Launched in 2012, VUKA coworking spaces are part of Impact Hub, a global hub of over 100 locations, 50 countries, and 11,000 members that focuses on nurturing and developing entrepreneurial communities to resolve issues. Also, VUKA provides nonprofit access to its programs that are primarily working for culture, business, and leadership themes. Some of the popular names they have worked with include Allies Against Slavery,  Project Schoolhouse, Recovery People, the Nature Conservancy, and Habitat for Humanity. Dogs are welcome too!
Location: VUKA has two coworking spaces in Austin
411 W. MONROE STREET
North Loop, 5540 N Lamar
Website: https://vuka.co/
Membership Plans and Pricing: Buy a membership for a virtual office for $75/month. Take part-time access for three days a week at $200/month. Full-time membership is $300/month, while dedicated desks are priced at $500/month, and the cost of private offices varies as per your requirements.

9
Impact Hub Coworking Austin
This list would have been incomplete without Impact Hub, one of the largest chains of global support communities for coworkers. The first Impact Hub started in central London in 2005; If you choose Impact, you instantly get access to more than 16500 members spread across 55 countries and over 100 locations. The United Nations office in Geneva has also acknowledged them for driving community engagement and making efforts to address SDGs (Sustainable Development Goals). Besides, you will love working in a creatively designed workspace and is sure to boost your creativity and productivity. At Impact, you get access to regular office infrastructure and a complimentary coffee. There are also various networking events, pet-friendly spaces, dedicated desks, campfire networking meets dedicated desks, onsite car wash, and a team of onsite staff to help you achieve your goals. And in case, work is stressing you. Take a break, enroll in one of the yoga or meditation revitalize your mind and soul.  
Location: Impact Hub offers two coworking spaces in Austin
North Loop 5540 N Lamar Blvd
Bouldin Creek 411 W Monroe St
Website: https://impacthub.net/
Membership Plans and Pricing: No membership plans or prices are revealed. Get in touch to find out more. You can book a tour using their website to inspect the location and decide. Or you can leave a message with your queries or doubts about anything. Pay $35 to join the Hub community. For general coworking membership, pay $300/month. A dedicated desk comes at the price of $500/month. A team of 10 members or over is charged at different prices for different requirements.

10
Craftwork Coffee (Coworking Space Austin)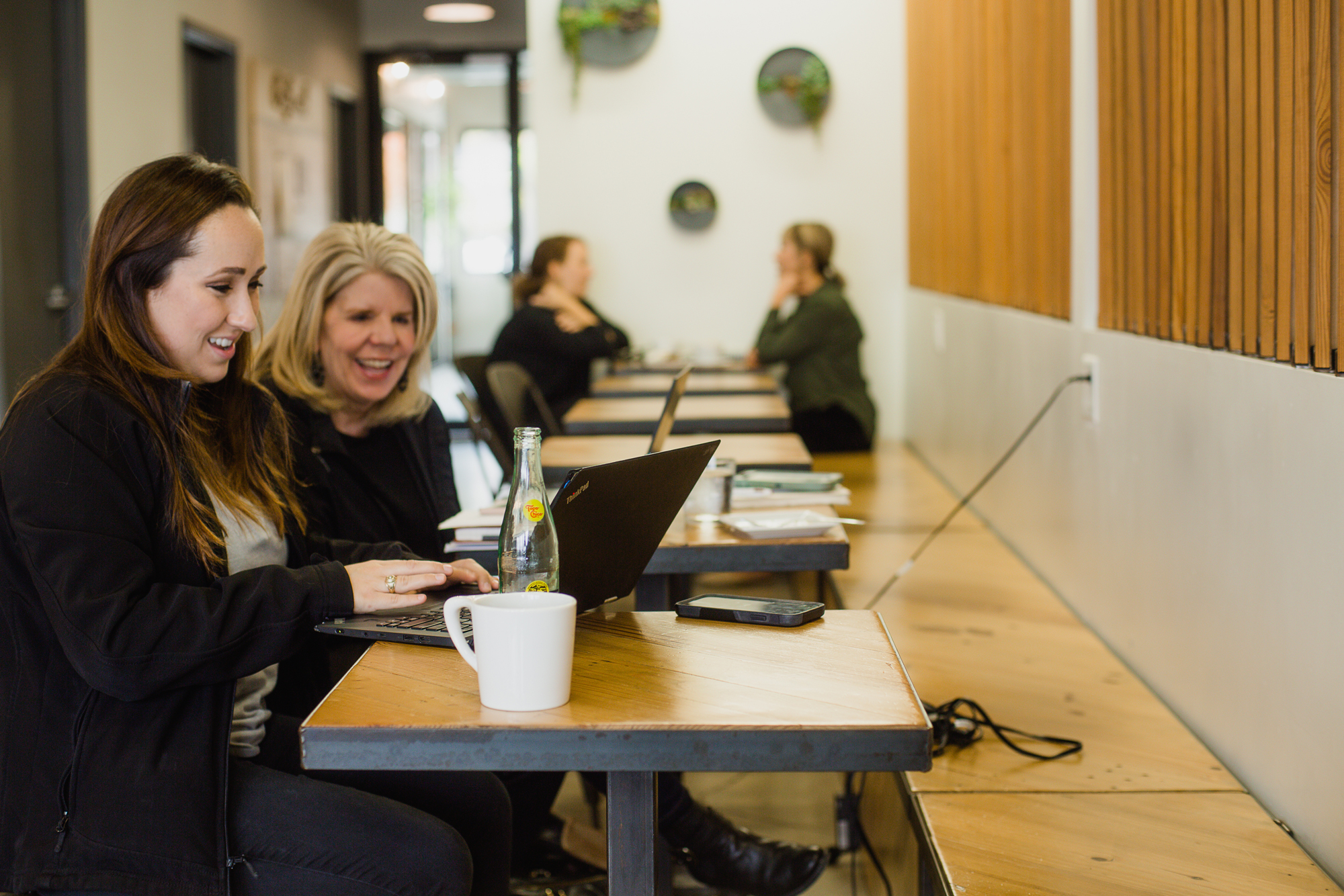 A cafe cum coworking space in Austin. Is there a better combination? Craftwork Coffee Co comes alive with the aroma of fresh coffee along with happy faces working tirelessly yet jovially to fulfill their dreams. A coffee space is open to the general public, with a private coworking space open to all those interested. You can also check in to the shared workspaces and conference rooms. A warm and welcoming staff supports the purposely designed to work. Besides, the workspace members are entrepreneurs, freelancers, and remote workers from diverse fields. Away from the crowd, this place inspires you while helping you connect and collaborate peacefully. On the go, teams can also access the space for enhancing productivity and efficiency. And the biggest perk of working here – FREE COFFEE! There are three more spaces in Fort Worth. Enjoy the menu that includes espresso to cold brew to pour-overs and lattes. For food, gobble breakfast tacos, pastries, and sandwiches.
Location: 10727 Domain Dr., Unit 100 Flatiron
Website: https://craftworkgroup.com/
Membership Plans and Pricing: Become a member of Social, Team Office, or Solo Suite. Social is priced at $15o/month. Solo Suite is for a single dedicated person and costs $600/month, and Team Office for up to 4 members is charged $900/month.

So, we finish our list with this. Texas is definitely a place to be with good food, beautiful parks, bike and hike trails, great music, and tech culture. Coworking has added a feather in its cap by supporting a culture that is not only accepted but propagated wholeheartedly all over the world. 
Austin offers a good mix of coworking spaces that focus not only on shared and private spaces but also on social and professional events to help individuals grow professionally. These events are strategically designed to help you connect and collaborate with other like-minded people.   
If this information has piqued your interest even slightly, come and be a part of these Austin coworking spaces. We bet you won't regret it.